Merlot Friuli Colli Orientali DOC Riserva Uve Carate 2015 – Castello di Buttrio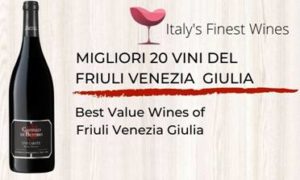 On the nose a bouquet stands out that ranges from hints of cherry, blackberry, humus and vegetable epiphanies, to give space to tertiary suggestions of vanilla, licorice and coffee. On the palate it is warm with an enveloping, silky tannic texture and a long seductive balsamic persistence.
A sensational interpretation of the Bordeaux vine in the Colli Orientali del Friuli. A powerful and rich wine embellished with captivating mineral suggestions and great intelligibility of the fruit. Deservedly among the best wines of Friuli Venezia Giulia for overall finesse and varietal enhancement of Merlot.
Grapes: Merlot 100%
Area: Colli Orientali del Friuli
Leggi tutto l'articolo QUI